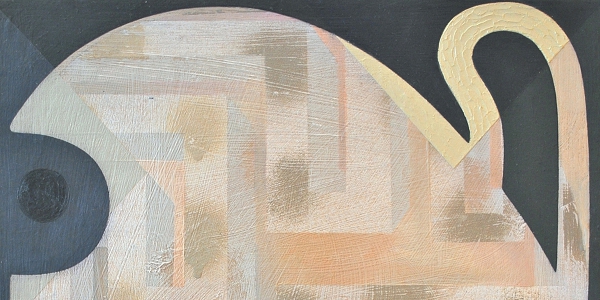 Sep 9 – Oct 22, 2016
IN THE OFFICE
---
CHICAGO, IL (08/25/216) — THE MISSION is pleased to exhibit paintings by Allison Reimus IN THE OFFICE. An opening reception will be held on Friday, September 9 from 6:00 to 8:00pm and the exhibition will continue through Saturday, October 22, 2016.

Reimus explores the relationship between decoration and function and similarly, how painting operated as both object and an idea. Creating compositions that depict household situations in shallow pictorial space allows Reimus to explore her interests in formalism, geometry and abstraction. Reimus' identity as a feminist and mother inspires the content and enforces a need to experiment with media more closely associated with femininity and domesticity by employing handicrafts and the decorative arts, such as glitter, fold leaf, burlap, lace, yarn, sandpaper and flocking fibers. Most recently Reimus has been incorporating towels, tablecloths, ceiling tile and sewn canvas.

Reimus' process is slow and layered, allowing for mistakes and chance to play a role in an otherwise controlled environment. Often mimicking such blunders with intentional marks, Reimus further blurs the line between actual and fiction, subverting and upholding the language of painting and allowing the work to exist in a liminal space between window and wall.

ALLISON REIMUS received an MFA from American University (Washington, DC) and a BFA from Michigan State University (East Lansing, MI). Reimus' work has recently been included in How Much Land curated by Jessica Cochran at Thomas McCormick Gallery (Chicago, IL), Hard Candy at DEMO Projects (Springfield, IL), Interiors at Dorchester Art Project (Boston, MA), fresch stART at Arena 1 Gallery (Los Angeles, CA), among others. Reimus was selected as a noteworthy artist by New American Paintings, Midwest Issue and featured in an accompanying exhibition, New American Painting: Midwest Issue, curated by Staci Boris at the Elmhurst Art Museum (Elmhurst, IL). Reimus lives and works in Chicago, IL.