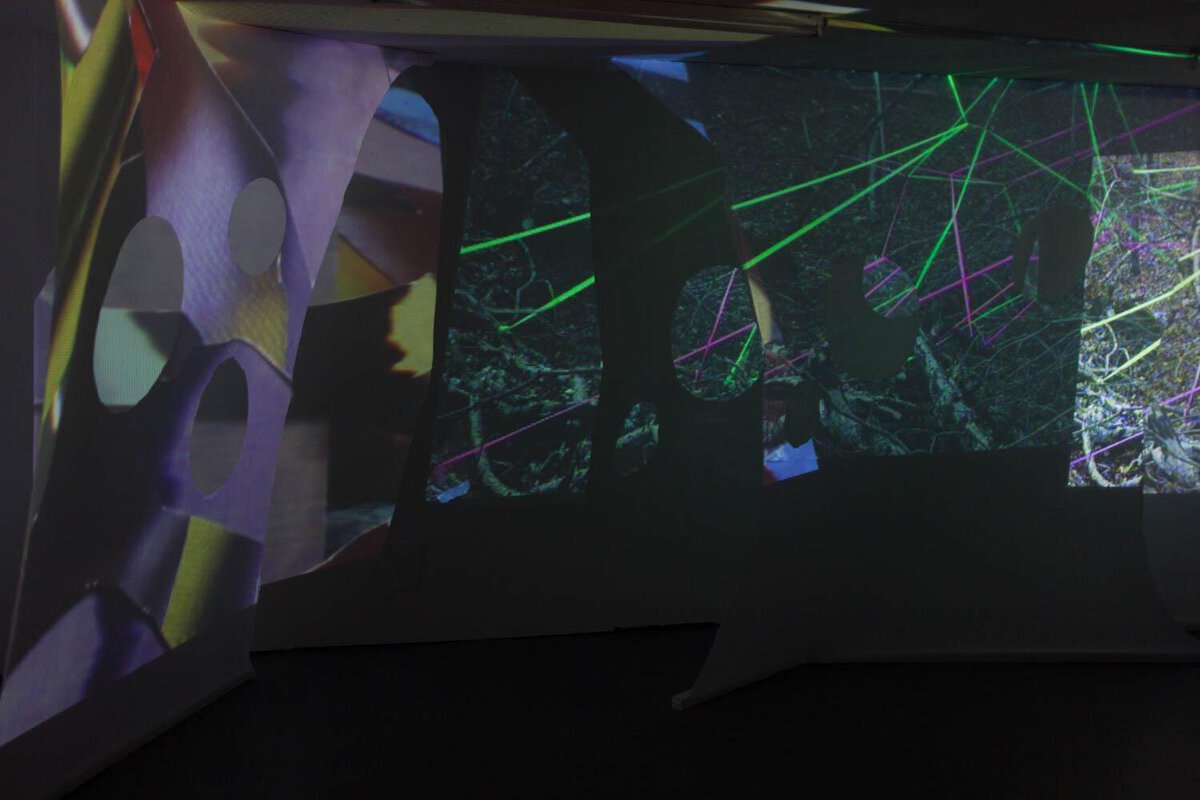 THE SUB-MISSION is pleased to announce How Easy is a Bush a Bear, a site-responsive installation by Jordan Martins that examines visual codes, camouflage, and gestalt theory through collage-based video and sound. An interview with the artist will accompany the exhibition. An opening reception will be held on Friday, March 11, from 6pm to 8pm. The exhibition continues through Saturday, April 23, 2016.
How Easy is a Bush a Bear is a two-channel video installation confronting conditions of visual perception, using bold, colorful, and patterned source material. A false wall, punctured with amorphous viewing holes, separates the viewer from the video projected onto the rear wall, while the viewer is inundated by a cacophony of image and sound that repeat and recombine in an endless, yet non-repetitive loop—algorithms determine random combinations of images and sounds, so the installation is constantly fluctuating, changing moment to moment in an exercise of temporality. The videos are composed of planes of fabric suspended close together, cut into in various ways and lit evenly to minimize the depth. Martins relies primarily on boisterous, conflicting fabric patterns to create a kind of visual collapse and disorient the viewer.
Elements of gestalt theory inspire the exhibition to provoke an awareness of the mutability of vision, while also unifying elements of Martins' practice. Techniques of unit-forming, unit-breaking, disruptive coloration, figure/ground blending, coincident disruption, among others, have been used in both a studio environment and in natural setting installations to produce film that depicts neither objects nor space. While the videos do not illustrate any one principle, each combines various techniques that disrupt both the viewer's sight and sense of normalcy. Martins' practice references historical visual perception theory, namely Abbott Thayer's research in the early 20th century, which developed ideas of modern camouflage based on animal coloration, as well as early Soviet psychotechnics laboratories designed to teach citizens freedom from automatic perception by demonstrating illusions of space, angles, and volume. Martins utilizes 2-D collages and videos nonrepresentationally, yet aims to provide enough visual structure to "hook" a viewer while also leaving the composition unresolved, allowing one's own perceptual instincts to form it.
At 6:30pm on Thursday, April 7, THE SUB-MISSION will host a simultaneous-reading performance based on hallucination descriptions appropriated from clinical studies, followed by a discussion with SUB-MISSION Committee Member and Chicago Artist's Coalition Programming Director Teresa Silva.
On Saturday, April 23, THE SUB-MISSION will host a closing reception from 3-5pm, and a screening in collaboration with The Nightingale, an experimental film venue located at 1084 N. Milwaukee Ave. The Nightingale will host the screening of short moving image works related to themes of perception and camouflage at 5:30pm.
JORDAN MARTINS is a Chicago-based visual artist, curator, educator, and musician. He received his MFA in Visual Arts from the Universidade Federal da Bahia in Salvador, Brazil in 2007 and has been an instructor at North Park University since 2008. He co-founded the Comfort Music series in 2011, and is currently co-director of the Comfort Station, where he oversees general programming, gestates new projects, and coordinates partnerships with outside organizations and artists. As a musician Martins collaborates with Angela James and Quarter Mile Thunder, in addition to improvised performances with musicians from varied backgrounds. He directed the Relax Attack Jazz Series from 2011-2013, serves on the programming committee for the Chicago Jazz Festival, and curates visual art at Elastic Arts.