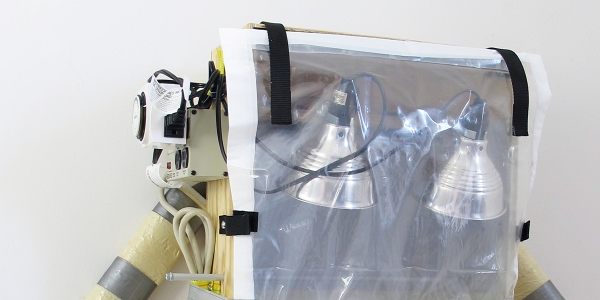 Jan 9 – Feb 28, 2015
THE SUB-MISSION
Featuring work by Manuel Rodríguez-Delgado
---
Press Release
FOR IMMEDIATE RELEASE
Caroline Stearns, THE MISSION
(312) 243-1200
caroline@themissionprojects.com

CHICAGO, IL, 12/30/14 –THE SUB-MISSION is pleased to present Selvanáutica, a site-specific installation by Manuel Rodríguez-Delgado. Rodríguez-Delgado employs off-the-shelf products to construct garage-built technologies designed to deploy and sustain tropical plants -– guava, yagrumo and plantain seedlings -– in a cold weather environment within THE SUB-MISSION. An opening reception will be held on Friday, January 9 from 6 to 8pm. The show continues through Saturday, February 28, 2015.

Selvanáutica is an extension of a previous project, Prototype for a Hovering Garden (2012), which features a floating, self-sustaining garden. This iteration comprises a mobile backpack-format grow box equipped with automated systems to promote plant growth, a small prototype for an air cushion vehicle to displace vegetation, and water tanks to serve as the main irrigation reservoir. A series of diagrams and wall assemblages accompany the installation. Loosely translating to jungle-nautics, Selvanáutica is informed by Technological Disobedience, a term made popular by artist Ernesto Oroza to categorize the creation of new, makeshift Cuban technologies designed during a time void of global trade.

Manuel Rodríguez-Delgado received his BFA from Escuela de Artes Plásticas in San Juan, Puerto Rico and his MFA from the School of the Art Institute of Chicago. His work has been recently exhibited at the PeregrineProgram in Chicago and Gallery Espacio 304 in San Juan, Puerto Rico. In 2014, he was a resident at Ox Bow School of Art in Saugatuck, MI and in 2015 he is invited to The Luminary Residency Program in St. Louis, MO. Rodriguez-Delgado lives and works in Chicago.