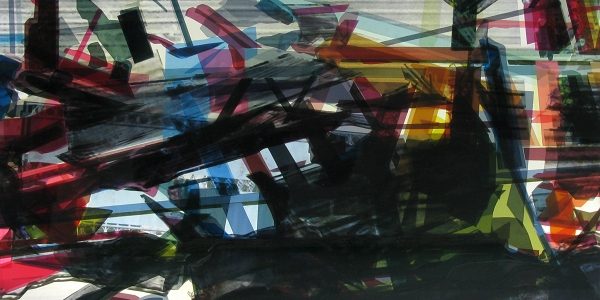 Sep 5 – Oct 25, 2014
Houston
---
THE MISSION | Houston is pleased to announce
Moments in the System
, a two-person show featuring new works by Chicago-based artist Adam Gondek and Houston-based artist Anna Elise Johnson. The exhibition pairs new paintings and drawings by Gondek with assemblages of digital prints encased in layers of acrylic and resin by Johnson. An opening reception will be held Saturday, September 6th from 5:30-7:30pm. The show continues through Saturday, October 25, 2014.
Moments in the System
explores the implications of preexisting images, their role in mass communication and processes of standardization, and how the repetition of images supports or upturns the status of originals. Exploring the visual language of contemporary culture, Adam Gondek presents two new series of paintings and drawings that incorporate collected and appropriated advertisements for consumer products from the iconic American magazine,
LIFE
. In the paintings, many thin layers of paint of varying opacity are applied to the surface of advertisements using a brush, knife, roller or by hand. The images fade into a ghostly haze and occasionally assert themselves more boldly toward the surface. Gondek uses a similar technique in his new drawings. Layers of graphite are applied to the surface of advertisements in a controlled but chaotic manner, creating a veil of subtle line patterns over the image.
Anna Elise Johnson's works explore the role of images in the establishment of national, cultural, and sexual identities; the normalization of power structures; and the solidification of historical narratives. Politically charged collages suspended in standing blocks of acrylic and hand poured resin, the works are monoliths of imagery in which layers appear or disappear behind the shapes. Johnson cuts, pastes, layers and arranges color selections of superimposed digital prints, India ink drawings, and paint. She makes visible repetitions of imagery from different moments in history in an attempt to expose the way that images repeat, while simultaneously presenting the possibility that images can fail to repeat or become transformed in their reiterations.
ABOUT THE ARTISTS
Adam Gondek
studied studio arts with a focus on painting and drawing in the early college program at St. Louis University. In 2001, he received his BFA from The School of The Art Institute of Chicago. He works with and often mixes various media and techniques including painting, drawing, printmaking and photography to create rich and complex pieces that investigate formal and conceptual artistic practices. His work has been shown in galleries throughout the United States including exhibitions in Chicago, Wisconsin, Rhode Island and New Jersey. He lives and works in Chicago.
Anna Elise Johnson
was born in Starnberg, Germany and currently resides in Houston as a Core Fellow at the Museum of Fine Arts, Houston. She studied painting and art history at Washington University (St. Louis, MO) and received her MFA from the University of Chicago. While living in Berlin for four years, Johnson auto-didactically studied the history of the West, Europe, the Cold War, and Berlin. This allowed her to develop a solid basis for understanding current moments in relationship to the past. During this time she also worked as assistant to artist Julie Mehretu.
Moments in the System
opens at THE MISSION | Houston on Friday, September 5 and continues through October 25, 2014. For more information please contact Sarah Busch at sarahb@themissionprojects.com or 713-874-1182.