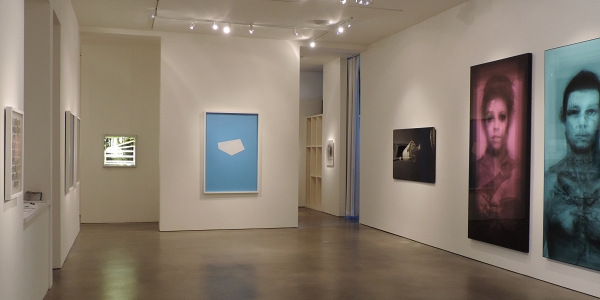 Apr 5 – May 17, 2014
Houston
---
HOUSTON, TX, 3/18/14 – THE MISSION | Houston is pleased to present
Lateral
, a group exhibition featuring recent photographs by national and international artists. In conjunction with the FotoFest 2014 Biennial,
Lateral
showcases a selection of works by ten contemporary artists whom explore photographic processes from various formal and conceptual perspectives. An opening reception will be held on Saturday, April 5 from 6-8pm. The exhibition continues through Saturday, May 17, 2014.
Experimentation, technique, investigation, and analysis fuel the works assembled in Lateral. Ranging from Jeremy Bolen's use of film to document potential, unseen natural phenomena, and human-engineered scientific experiments to Alex Chitty's colorful abstractions sourced from flower identification books and imagery created from outmoded printing techniques, the selection underscores the rich history and dynamic contemporary dialogue about photography in its miscellaneous forms. John Opera carefully follows the antiquated processes of the anthotype and cyanotype to create works that, while indebted to photography, fall somewhere in the interstices between mediums. While Opera's images of silicates, ropes, and water and ink abstractions are photographic in capture, the final objects have relationships to painting and drawing. Missy Weimer mutilates – by hand or laser – traditional photographs in an effort to transform them beyond an image and into a notion or sentiment, reconstituting private thoughts and feelings into physical entities. Rooted in an ongoing investigation of violence, Weimer's carefully carved letters form delicate, familiar, and minimalistic paper chains that analyze expectations of language.
Lateral
features works by Erica Bohm, Jeremy Bolen, Alex Chitty, Marcelo Grosman, Jason Lazarus, Jeroen Nelemans, John Opera, Daniel Shea, and Missy Weimer. The exhibition will include
The Smoky End of Time: Photographs by Bryan Zanisnik
in an adjacent gallery. New York-based artist Bryan Zanisnik explores spaces within the home that are customarily kept private or hidden – specifically attics and basements. Often incorporating his parents into his work, his multidisciplinary practice comments on issues of aging and regression, masculinity, familial relationships, Freudian psychology, and Americana culture.
Lateral
opens at THE MISSION | Houston on Saturday, April 5 and continues through Saturday, May 17, 2014. For more information, please contact Sarah Busch at sarahb@themissionprojects.com or 713-874-1182.