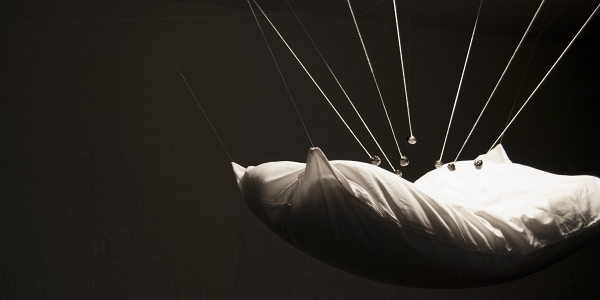 Mar 7 – Apr 19, 2014
THE SUB-MISSION
---
Press Release
FOR IMMEDIATE RELEASE
Rebecca Eaton, THE MISSION
(312) 243-1200
rebecca@themissionprojects.com
CHICAGO, Il. 2/15/14 - THE SUB-MISSION is pleased to present
You Have No Idea
, a site-specific installation by Jeffrey Michael Austin.
You Have No Idea
is the latest iteration in
A Language Older Than You
, Austin's series of text-based, sculptural installations exploring the plasticity of the oral and written word. An opening reception will be held on Friday, March 7 from 6-8pm. The exhibition continues through Saturday, April 19, 2014.
The installation presents a textual reference to a commonly used contemporary English expression – "You Have No Idea" – spelled hazily around the room's perimeter. Countless strands of white thread stretch from the text to a cluster of forms situated at the center of the project space. Supported by neodymium rare earth magnets, the forms pull each thread taut and suspended in midair. Exhibiting a perplexing natural phenomenon in conjunction with an offhand expression,
You Have No Idea
comprises a quiet and organic spectacle, instigating for the viewer a confrontation with humility and the unknown.
Jeffrey Michael Austin recently completed a semester abroad at the Burren College of Art in Ballyvaughan, Ireland. Austin is currently pursing his BFA in Sculpture at the School of the Art Institute of Chicago. Through installation and sculpture, he employs simple gestures to reveal phenomenological qualities of the universe at work. Austin's work has recently been exhibited at Terrain Exhibitions (Oak Park, IL), the Smart Museum of Art (Chicago, IL), and at Manifold (Chicago, IL) in conjunction with ACRE Residency. Austin lives and works in Chicago.