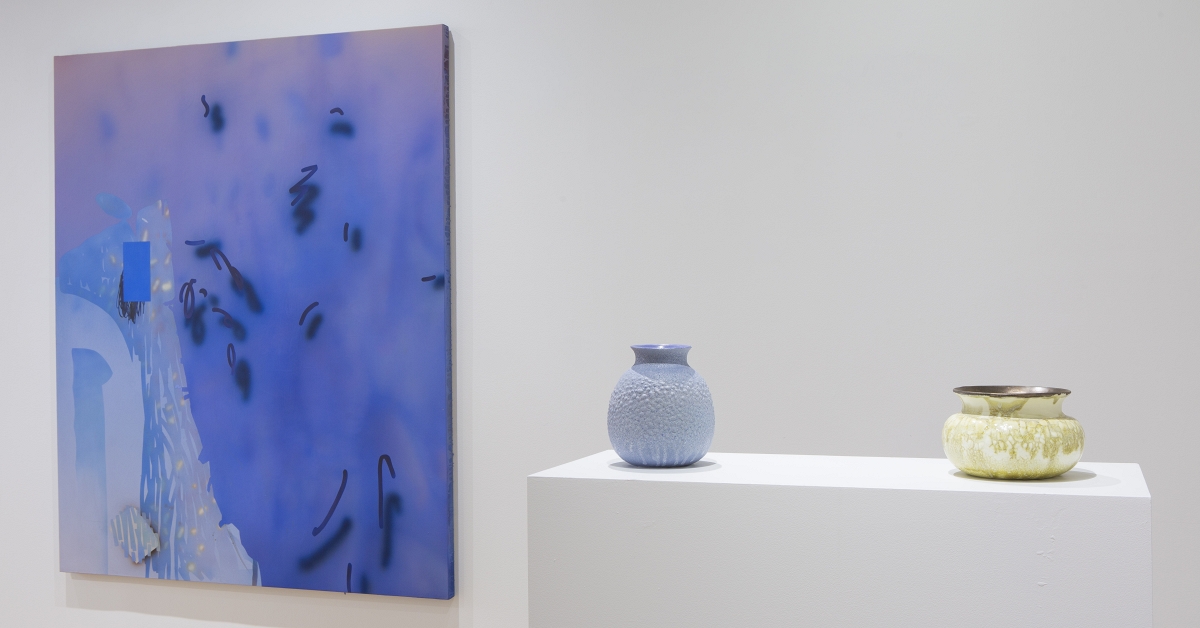 Nov 3 – Dec 16, 2017
CHICAGO
Featuring work by Sarah Lee Noah Singer
---
FOR IMMEDIATE RELEASE

Caroline Stearns, THE MISSION

312.243.1200

caroline@themissionprojects.com


THE MISSION is pleased to announce
Control & Contrast
, an exhibition bringing together paintings by Sarah Lee and ceramics by Noah Singer. Lee and Singer engage a call and responsive methodology to challenge associations banal to their chosen medium. An opening reception will be held on Friday, November 3 from 6:00 to 8:00pm. The exhibition will be on view through Saturday, December 16, 2017.
Singer's nonfunctional ceramics subtly and overtly provide classic silhouettes. Singer focuses on pushing form and glazes beyond their naturally presumed boundaries. Handles are oversized, slightly off center, or mismatched as they bisect and pierce the clay body. Placement, size, and gesture of the handles challenge each other and refute the function commonly associated with its form. Beginning with an idea, image, or shape, Singer then creates a dialogue with the clay on the wheel, the glaze, and the chemicals within the materials themselves. Listening and reacting—either pushing with or against—Singer's process is as much an act of responding as it is intent.
Singer lets go of intention after his preliminary designs, aside from his choice of glaze. Formulating his own lexicon of glazes, Singer explores the movement and interactions that different glazes have with each other and the clay. Rather than viewing glazing faults—crawling, shivering, and running—as problematic, Singer allows these imperfect reactions.Glazes pull away from the clay, revealing the clay body, a reminder of the materiality, while the vessel's form pushes us further away into thoughts of other shapes and figures.
Within Lee's paintings, ambiguously familiar and enigmatic forms are found within her seemingly spatial, yet flat surfaces. Lee's employs elements of artificiality in her abstracted paintings—extreme smoothness, unnatural coloring, and homogeneity of surface detail. Although the surfaces she renders are not plausible worlds, they are seductive—and more importantly—they are believable. She is fascinated with the uncanny atmosphere of virtual reality and the aesthetics of a digitally constructed image.
Lee investigates the aesthetic sensibility as a phenomenon looking at its relationship to the language of painting, especially when considering mark making. Lee's approach to this language is driven by a thirst for unattainable originality in a digitally perfected world and where gestural marks allude to human presence as a heritage of abstract expressionism. Lee flattens and refines her gestural marks by sanding, masking, and spraying. Through these actions that have become a ritual for that phenomenal desire, Lee makes an image that was once static, otherworldly, and yet, still familiar.

SARAH LEE
received a BFA from the School of the Art Institute of Chicago (SAIC) in 2011 and a MFA from SAIC in 2017. Since graduating, Lee's paintings have been featured in a solo exhibition,
Unoriginal sublime
, at THE MISSION, IN THE OFFICE,
Presence Interrupted
, a group exhibition at Julius Caesar, and at EXPO CHGO in Chicago, IL. She also exhibited a solo exhibition,
Playing the Field
, at Won Gallery (Seoul, South Korea).
NOAH SINGER
is a self-taught ceramicist living and working in Chicago, IL. Singer has exhibited work at PATRON, Threewalls and Open End Gallery in Chicago, IL. He exhibited nonfunctional ceramics in an installation at THE MISSION, IN THE OFFICE in 2016 and THE MISSION's booth at EXPO CHGO in 2016 and 2017. He completed a residency at Ox-Box School of Art & Artists' Residency. He was the owner of Imperfect Articles and was a board member at Roots & Culture (Chicago, IL).