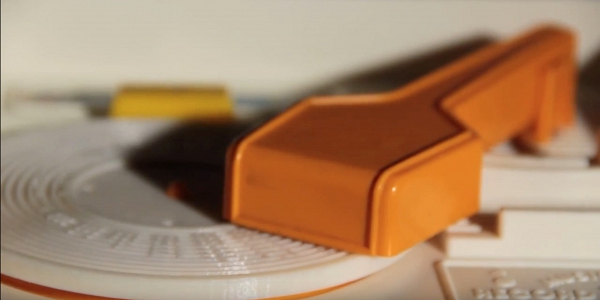 Jun 23 – Aug 5, 2017
THE SUB-MISSION
---
FOR IMMEDIATE RELEASE

Caroline Stearns, THE MISSION

312.243.1200

caroline@themissionprojects.com

THE SUB-MISSIONis pleased to announce A Study in Rhyme & Song: Ten Little Indians, an exhibition by Sadie Woods. Her site-specific installation includes a sound installation, sculpture, and archival materials. An opening reception will be held on Friday, June 23 from 6:00 to 8:00pm. The exhibition will run through Saturday, August 5, 2017.

Woods grew up Afro-Latina in Chicago during the takeoff of hip-hop, electro, and the proliferation of musical styles that matched the multiple subcultural and counter-cultural identity movements, which has been a vehicle for Woods' re-examination of celebrated voices in pop culture. Coded in music are the affects, aspirations, and struggles of cultural experiences.Deejaying has been a culminating point between taste-making and space-making—connecting songs to cultural and personal currents and memory. While deejaying is democratic and collaborative, it has tremendous possibilities to engage social and political spheres through sound and performance. Woods' practice attempts to zero-in on "anthems" and "mantras" that can be excavated to take on socio-political proportions and become a call to arms for listeners to remember times of resistance.

Woods blends, cuts, edits, and re-works tracks as a form of articulation. InA Study in Rhyme & Song: Ten Little Indians, Woodssurveys the performance of identity as a form of social terrorism through the lens of children's rhymes and songs. The sound installation offers a critical perspective on notions of progress, of living in a post-racial nation, and of identity-based politics. Pulling from the Minstrel show tunes "Ten Little Nigger Boys" and "Ten Little Injuns,"A Study in Rhyme & Song: Ten Little Indians confronts the history of media representation in education and entertainment utilized in the late 19th to mid 20th centuries.

SADIE WOODS(b. 1978) received her BA in Music from Columbia College Chicago and her MFA in Sound at the School of the Art Institute of Chicago (SAIC). She has performed at Danztheatre (Chicago, IL), 6018North (Chicago, IL), Chicago Cultural Center, Rebuild Foundation (Chicago, IL), and Museum of Contemporary Art Chicago. She has been included in group exhibitions in Chicago at Zhou B Art Center, Experimental Sound Studio, Sector 2337, and Hyde Park Art Center. She has attended residencies at High Concept Labs, ACRE, Independent Curators International, and Chicago Artists Coalition. Woods lives and works in Chicago, IL.

PROGRAMMING

Closing Reception & Performance
Saturday, August 5, 12:00-4:00pm

Please join us for a closing reception accompanied with a performance by Sadie Woods. In A Study in Rhyme & Song: Then There Were None, Woods will present an audio collage soundtrack with concurrent choreographed movements exploring themes of the school-to-prison pipeline, gun culture in America and social justice hashtags, masculinity and queer culture, and comic relief.