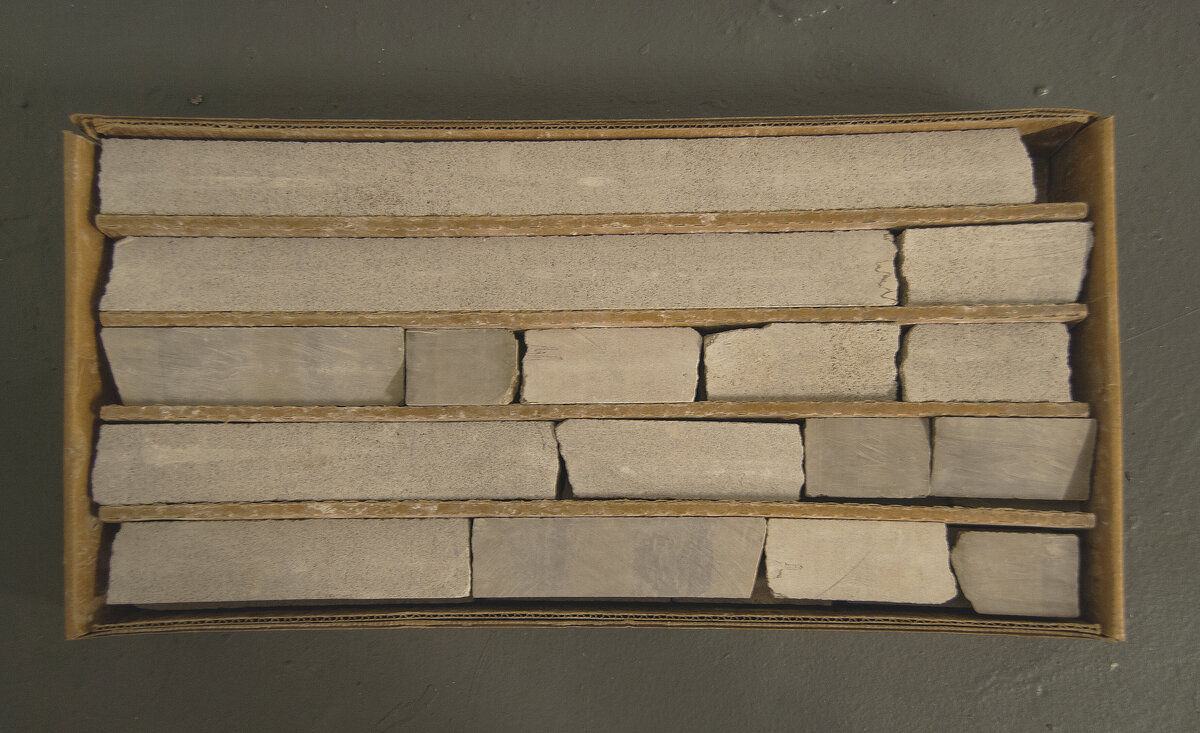 FOR IMMEDIATE RELEASE
Makenzi Fricker, THE MISSION
(312) 243-1200
makenzi@themissionprojects.com
Chicago, IL 4/19/16 - THE SUB-MISSION is pleased to announce Mudroom, an installation by Austen Brown that examines cycles of migrancy and depleted sites of industry in the oil-producing Bakken region of North Dakota. An interview with the artist will accompany the exhibition. An opening reception will be held on Friday, May 6, 2016 from 6pm to 8pm. The exhibition continues through Saturday, June 25, 2016.
Mudroom
is a three channel video installation supplemented by audio recordings and found objects. In a contemporary interpretation of a still life, three wall-mounted monitors display videos that present static images of the infrastructure of coal mining, such as a disemboweled shell of a mobile home, oil-extracting equipment, and concrete barricades. Containers of oil-rich shale samples and data sheets produced by Haliburton, a geological survey company, occupy the floor.
At the height of the most recent oil boom, thousands of itinerant workers streamed into the Bakken region of North Dakota to capitalize on the abundance of jobs in coal mining and oil refining. The influx of people flooding into the area created a sudden shortage of crucial amenities but the most pronounced of these was housing. Myriad temporary housing structures were created in response to this crisis. When the global oil economy plummeted, the need for a correspondingly large workplace also dissipated, causing the wave of workers to reverse. Brown's research-based practice, motivated by his long-standing interest in urban planning and informal economies, led him to visit the site twice, once at the apogee of the boom and then again shortly after the bust. His ethnographic research methods of audio and video recordings capture these two distinct moments of the apex and subsequent fall. Emphasizing the element of "place" in a site suddenly turned into a vacuum, the exhibition moves through spaces of extraction, production, and waste. Geography influences Brown's interest in exploring how power is constructed spatially and how relationships are formed between sites.
There's a term that I like; "buildings as evidence", meaning that ideas of power, global economies, the price of oil, exist in very tangible, physical ways. To me, the question of 'where' is the question of 'how'.
— Austen Brown
AUSTEN BROWN
is an artist living in Chicago, IL holding his Master of Fine Arts from the School at the Art Institute of Chicago. Using geography and a site-based practice, he works with sound, video, and installation to draw conceptual lines between sites, exploring the relationships of people to place. His work has been shown internationally at Super-Sensor, Madrid, Spain; EXPO Chicago, IL; ACRE, Chicago, IL; Switched-On Garden with funding from the Pew Charitable Trust, Philadelphia, PA; Flat Gallery, Chicago, IL; LODGE, Chicago, IL; Delaware Center for the Contemporary Arts, Wilmington, DE; Rebekah Templeton Contemporary Art, Philadelphia, PA. In 2014 he was an artist in residence at ACRE, and has received awards including the Municipal Arts League Fellowship, Siragusa Foundation Fellowship, New Artist Society Scholarship (SAIC), and the Sonic Arts Fellowship (SAIC).